As I prepared to teach the language lab at iFLT 2019, I was faced with the question that many teachers have asked me over the years in workshops and trainings, "How do I get started and what do I teach?" It is a question that seems simple on the surface but in fact, can feel very overwhelming. This post is simply a true and honest account of how I decided to face these two questions head-on. Hopefully, it will help lower your anxiety and set you on a path for success in your own CI class.
The language lab afforded me ten hours of contact with my students over the course of four days. Each day I had 2.5 hours of time on task. This equates to a little more than two weeks of contact time in a traditional classroom. Each language lab teacher is given one day… 2.5 hours… to get to know the students, establish routines and make some connections. On day two of the conference, after a mere two and a half hours, teachers attending were invited to come and observe. That's right, as many as 60 language teachers could come to a class with students that I did not know, with a huge age gap and varied language backgrounds to watch me try to teach them French. To say that I was a bit stressed is a huge understatement. AMEN! STRESS!
Feeling overwhelmed with my pre-conference task of creating meaningful lesson plans for a group of students I didn't know, I told myself not to panic. I told myself to trust the process. To trust that if I provided my language learners with comprehensible input in French that was meaningful and interesting, their brains would do the rest.
With a cup of coffee in hand, I decided to start at the end and work my way backward. I decided that at the end of these precious ten hours, I wanted my students to be able to read the first chapter of Brandon dit la vérité.  
With my end goal out of the way, I made a list of all the high-frequency structures they would need to understand in order to be successful. When they actually read the chapter, I wanted it to feel easy, really easy. I wanted them to feel like reading in another language was one of the easiest things they could do. In order for this task to feel easy I knew that they would need to understand the majority of the words in chapter one. 
Keeping the list of high-frequency structures in mind, I started pulling together activities that would support my end goal and be interesting enough to grab the attention of the 12-17-year-old students who were about to take the longest block-schedule class in history. I don't know about you, but 2.5 hours is a long time for an adult, let alone a 12-year-old to be in the same class.  
No matter what activities I decided to do, I knew that I had to keep a few crucial ideas in mind as I moved forward. I needed…
…to get to know my students and build community from the get-go. With trust and a good relationship, the sky's the limit. 

…to provide for lots of movement. Movement, when controlled and done properly is very powerful.

…to include music. Music gets stuck in your brain and can be a gateway to culture.

…to create a sense of 'play' in much of what we did.

…to get them thinking and predicting.

…to sprinkle in small chunks of reading as frequently as possible.  

…to string together my lessons and activities in a way that would allow me to meet or exceed the 90% mark for staying in the target language with a group of true beginners.   
Below is a glimpse into the activities I used to reach my end-goal of reading the first chapter of Brandon Dit La Vérité! My hope is to go into more detail of each in a future post so for now, this is just a sneak peek.   
Modified TPR – I sprinkled my modified version of TPR here and there, in every single lesson. I modify traditional TPR by saying things like, "Tout le monde se lève (everyone stand up" or "On saute à la porte (We jump to the door)" instead of "Levez-vous (Stand up)". Modified TPR makes for a great brain break and allows for some fun movement. It also lends itself to using the subjunctively naturally with true beginners with questions like, "Qu'est-ce que tu veux qu'elle fasse ?" ("What do you want her to do?") 
Music – I chose to use, Bonjour by Alain le Lait and, Je veux by Zaz. We gestured Bonjour and I pre-taught the first verse to Je Veux with loads of questions about their likes and dislikes. I also used Je Veux in brain breaks over the course of all four days. It has a catchy beat and I wanted the students to get the song stuck in their head.    
Jenga – I inserted a bit of play via Jenga and put them on teams to build community and provide the CI in a fun and playful way.  
Class selfie – I took the picture and put it on the screen for our second class. This gave me something very concrete to talk about and helped me build community in the process.    
Modified MovieTalk – I picked two clips that would allow me to focus on the high-frequency structures in a way that felt new and interesting. I chose a clip from the French film, L'argent de Poche and the animated short, The Gift. I set them up very differently by using screenshots for the Gift. I used the movie clip as a prediction activity :    Il va tomber ou il ne va pas tomber
Listen and Draw – The students listened to a story and drew what they believed happened. This was a great way to assess comprehension in a non-threatening manner. Besides, it was fun!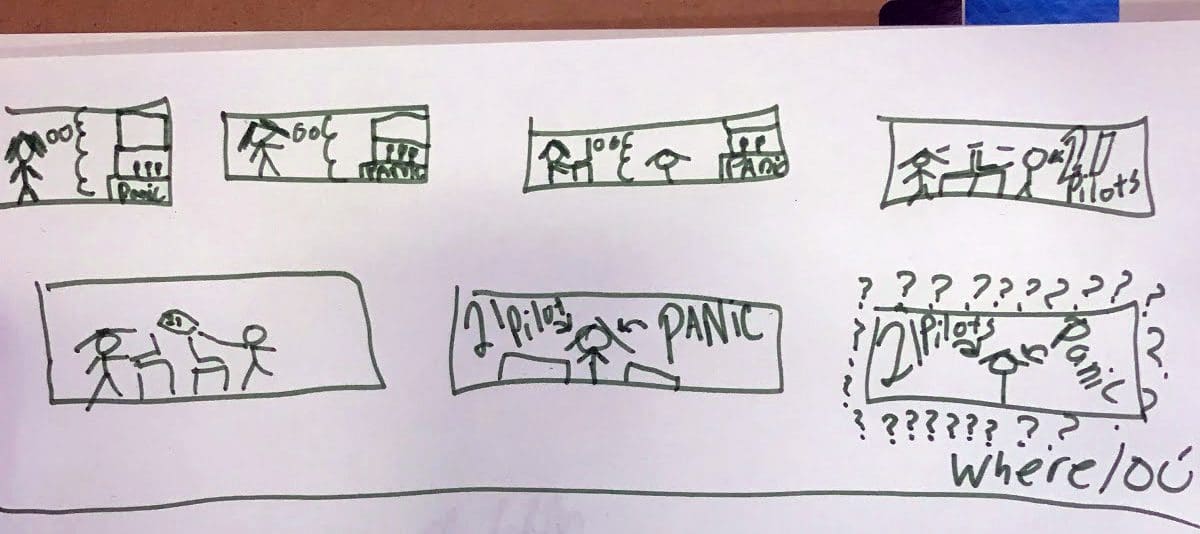 Major structures necessary for
Brandon dit la vérité
Il y a
Est
Joue
Entend
Jette
Dit
Une mère
Une sœur
Un jeu vidéo
Un portable
regarde
Other words that I suspected I would
introduce during this 10-hour class.
veut

va

voit

s'appelle

croit

aime

a 

fait
The ten hours with this wonderful group of young people from different states and age groups absolutely flew by. By the end of the class, they had come together as a group and had let down their guard a bit. They started trusting not only me but also each other and the process of acquiring French. We had met or exceeded the 90% mark of staying in the target language and they made huge progress with their French. They understood almost everything I said whether asking comprehension-based questions or questions about their families, friends or classmates and they actually started producing! But the best moment was when I decided to have them read the first chapter of Brandon dit la vérité and they understood almost everything and needed very little support in English.  
So in the end, the moving, the sense of play, the brain breaks and the varied activities supported my goal even with a group of young people I barely knew and they successfully read chapter 1 of Brandon dit la vérité. If only we had had more time….